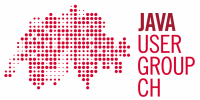 The JUG Switzerland aims at promoting concepts and uses of Java technology in Switzerland.
It supports the exchange of experiences among its members within workshops, trainings and conferences. It also supports the cooperation among companies and academic institutes. It provides its own Web-site (the JUG Switzerland – Web) to inform all Java-interested people about Java-activities and reports.
It also provides a mailing-list for its members. The JUG Switzerland is founded as an interest group of the Swiss Informaticians Society (SI).